19.10.2017  |  Recital – F. Chopin
Date:   19.10.2017  7 pm.
Place:  Warszawa, Poland
Venue: Theatre at Royal Baths  [show on map]
Program:
F. Chopin – Mazurka op. 24:
No. 1 in g-minor
No. 2 in C-major
F. Chopin – Etiudes op. 25:
No. 7 in C-sharp minor,
No. 8 in D flat,
No. 6 in G-sharp minor,
No. 12 in C-minor

F. Chopin – Scherzo in b-minor, op. 20
Event: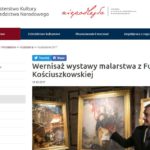 http://www.mkidn.gov.pl/pages/posts/wernisaz
More:
October 19, 2017 – ceremonial vernissage of the Kosciuszko Foundation collection attended by Deputy Prime Minister, Minister of Culture and National Heritage Piotr Gliński, Secretary of State at the Presidential Chancellery Adam Kwiatkowski and representatives of the American Embassy was held in Royal Baths in Warsaw.
During the vernissage the donors and the Kosciuszko Foundation have been honored with the Friends of Royal Baths Award, as individuals who contribute to building the prestige of the Royal Baths Museum in Poland and in the world. The ceremony was graced by a concert at the Royal Theater, performed by Kamil Pacholec, a scholarship recipient of the Kosciuszko Foundation.