19.10.2017  |  Recital – F. Chopin
Date:   26.08.2017  12 pm & 3 pm
Place:   Żelazowa Wola, Poland
Venue:   F. Chopin Birthplace & Museum  [pokaż na mapie]
Program:
F. Chopin – Mazurkas op. 24:
No. 1 in g-minor
No. 2 in C-major
No. 3 in A-Flat major
No. 4 in b-Flat minor
F. Chopin – Etiudes op. 25:
No. 7 in C-sharp minor,
No. 8 in D flat,
No. 6 in G-sharp minor,
No. 12 in C-minor
F. Chopin – Scherzo No. 1 in b-minor, op. 20
WebPage: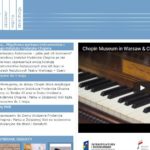 http://chopin.museum/pl
More:
Located 54 kilometers from Warsaw, Żelazowa Wola is visited by many tourists and music lovers from Poland and abroad. Here came the world of Fryderyk Chopin, here is also the park and museum – the Birthplace of Fryderyk Chopin, where concerts take place, initiated in 1954 by professor Zbigniew Drzewiecki, an outstanding Polish pianist and teacher.