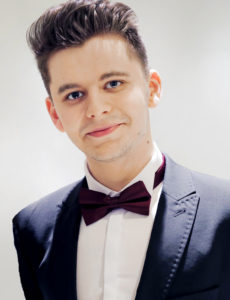 Born on November 11, 1998 in Kielce Kamil Pacholec started learning piano at 7 under supervision of Malgorzata Kowalska. After graduating with honors from the Rozycki Music School in Kielce in 2017 he became a student of Professor Wojciech Świtała in the Karol Szymanowski Piano Academy in Katowice. From 2019 he is a student of Professor Ewa Pobłocka at the Music Academy in Bydgoszcz.
Kamil gave his first concert at the age of eleven with the Swietokrzyska Philharmonic Orchestra in Kielce.
He is a laureate of national and international piano competitions including: Grand Prix and 1st place Prizes in the Halina Czerny-Stefańska 17th Polish National Piano Competition in Żagań (2012), 1st place in the 18th National Piano Competition in Konin (2014), 1st place in the Halina and Ludwik Stefański 5th Chopin Piano Competition in Krakow (2014), 1st place in the 14th International Piano Competition in Gorlitz (2015), Grand Prix in the Irena Rolanowska 8th Piano Competition in Krakow (2015), 3rd place in the Cesar Franck International Piano Competition in Kraainem / Brussels (2015), Grand Prix and the best performance of Fryderyk Chopin solo work prize in the Halina Czerny-Stefańska and Ludwik Stefański 14th Piano Competition in Płock (2016). He is also the laureate of the first place of the National Auditions of Secondary Music School Students in Warsaw, both as a soloist in 2011 and as a duet in 2013.
In 2016 he was the winner of the 47th Fryderyk Chopin National Piano Competition in Katowice, during which he also won special prizes for the best performance of a solo piece by Fryderyk Chopin and the best performance of a piano concert. In 2018 he won the International Piano Competition in Livorno in Italy. The same year he was also the laureate of "The Arturo Benedetti Michelangeli Prize" – the main prize of the Piano Academy Eppan (Italy) and the semi-finalist of the 1st International Chopin Competition on historical instruments in Warsaw.
Kamil is eagerly invited to piano festivals and media projects.
In February 2016 he took part in the nationwide TV program "Young Musician of the Year 2016". Next year in Chopin's birthplace in Zelazowa Wola he recorded a recital that was published in TV Culture channel.
He was invited to concert halls in Poland, France, Italy, USA and Japan.
He has given recitals at several renowned piano festivals, including the 72nd International Chopin Festival in Duszniki Zdrój, the "Chopin in Paris" Festival in Paris, the Chopin Festival in Nohant, and twice at the Paderewski Festival in Raleigh in the USA (2017, 2018). They brought him many enthusiastic reviews, emphasizing "the perfect combination of youthful freshness with perfect technique and a deep understanding of the music he performs".
Since his early school years he has always strived to broaden his horizons by taking part in master piano courses conducted by eminent pedagogues including Arie Vardi, Pavel Gililov, Andrzej Jasiński, Katarzyna Popowa-Zydroń, Tamas Ungar and others.
He has performed as a soloist with the Świętokrzyska Philharmonic Orchestra, Zielonogórska Philharmonic Orchestra, the Lviv Virtuoso Orchestra and the Karol Szymanowski Academy of Music Orchestra in Katowice.
His hard work and achievements are being noticed by many local and national institutions and organisations.
In 2012 Kamil was covered by the assistance program for outstandingly talented teenagers managed by the Polish Children's Fund in Warsaw. He was awarded the "Swietokrzyskie Talents" (2014, 2015, 2016) and "Hope of the City of Kielce" (2016) prizes in his hometown. He was given the National Center of Artistic Education scholarships for very good results in the school curriculum (2015,2016). In 2015 Kamil was awarded the Polish Ministry of Culture and National Heritage scholarship for his artistic achievements and Polish Prime Minister scholarship for outstanding artistic and academic performance.
In 2018 he was awarded the Polish Ministry of Culture and National Heritage "Young Poland 2018" scholarship.
Since 2016 Kamil has been covered by the Fryderyk Chopin National Institute "Young Talents" program.