F. Chopin, I. J. Paderewski
Date: 23.06.2019 at 5 pm.
Place: Orońsko
Venue: Center of Polish Sculpture in Orońsko [pokaż na mapie]
Program:
F. Chopin
– 3 Waltzes op. 34
I. J. Paderewski
– Minuet in G major
– Krakowiak Fantastic
F. Chopin
– Mazurkas op. 59
– Barcarolle in F sharp major, Op. 60
– Andante Spianato and Grand Polonaise in E flat major op. 22

Event web page: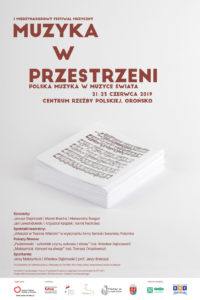 https://www.rzezba-oronsko.pl/

About:
International Music Festival "Music in space. Polish music in world music "is a cultural event popularizing and presenting the achievements of Polish composers present in many Polish and world concert halls, from the nineteenth century to the present day. The palace and park space offered by the Center of Polish Sculpture in Orońsko perfectly fits into the possibility of receiving works by the audience, gives the opportunity to live "with the universal domain of art, without any barriers in the form of language, cultural codes, etc.