P. Tchaikovsky – I-st Piano Concerto in B-flat minor Op. 23
Date:   17.05.2019, 7 pm.
Place:   Kielce
Venue:   Concert Hall of the Swietokrzyska Philharmonic in Kielce  [show on map]
Program:
P. Tchaikovsky –

I-st Piano Concerto in B-flat minor Op. 23


 I – Allegro non troppo e molto maestoso – Allegro con spirito
 II – Andantino semplice – Prestissimo
 III – Allegro con fuoco
Event: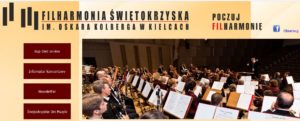 http://filharmonia.kielce.com.pl/
More: On May 17, 2019 at 7 pm, we kindly invite you to the Concert Hall of the Filharmonia Świętokrzyska in Kielce for the inaugural concert of the 8th M. Moszkowski International Piano Competition "Per aspera ad astra". With the accompaniment of the symphony orchestra of the Filharmonia Świętokrzyska Kamil Pacholec will perform the Peter Tchaikovsky first piano concerto in B minor Op. 23  – one of the most popular compositions of Tchaikovsky and one of the most famous piano concertos in the world.