Event:
The 1st International Chopin Competition on Period Instruments – Second Stage   (10 September 2018)
Warsaw Philharmonic Chamber Music Hall, Poland

Program:     (played on 1837 Erard piano from Beunk collection)
F. Chopin – Mazurkas Op. 24 (nr 1,2,3,4)
F. Chopin – Andante spianato and Grande Polonaise Brillante in E flat major, Op. 22
F. Chopin – Sonata in B minor, Op. 58

Video: (from 0:07:40)

___________________________________________________________________
Event:
The 1st International Chopin Competition on Period Instruments – First Stage   (6 September 2018)
Warsaw Philharmonic Chamber Music Hall, Poland

Program:   (played on 1837 Erard piano from Beunk collection)

J. S. Bach – Prelude and Fugue in B flat major, BWV 866
K. Kurpiński – Polonaise in D minor
F. Chopin – Polonaise in D minor Op. 71 nr 1
F. Chopin – Etude in A minor, Op. 25 No. 11
F. Chopin – Ballade in G minor, Op. 23
Video: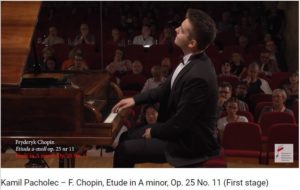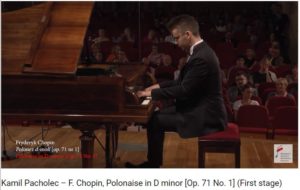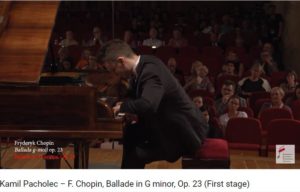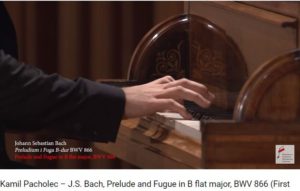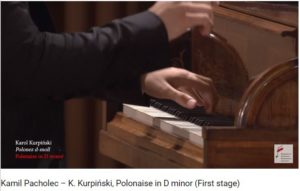 ___________________________________________________________________
Event: Closing Concert of the Paderewski Festival in Raleigh, USA   (12 November 2017)

Program:
F. Chopin – Scherzo h-moll, op. 20, 4 Mazurki op. 24 (nr 1,2,3,4), Etiudy op. 25 (nr 7,11)
I. J. Paderewski – Miscellanea op. 16 no.3 – Wariacje A-dur
J. Brahms – Sonata C-dur op. 1
F. Liszt – Rapsodia Węgierska nr.12
Video:

Review:
"Kamil Pacholec Caps the Fourth Annual Paderewski Festival Brilliantly"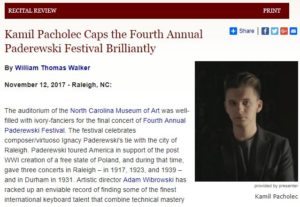 _______________________________________________________________

Event: Recital w Paryskiej Bagateli w ramach festiwalu "Chopin w Paryżu"  ( 11 Lipca 2017 )

Review:   "Deux jeunes pianistes polonais à l'Orangerie de Bagatelle"


Supérieurement doué, Kamil Pacholec offre une image toute différente, stature et morphologie obligent. Le premier prix du 47e concours national Chopin de Varsovie a des doigts souples, de longues et fortes mains, des bras puissants qu'entrave à peine, dans leurs transferts d'énergie, une tendance à bomber le dos si commune à cet âge. Mais c'est toujours un privilège et une joie que de voir une nature s'exprimer si magistralement au piano. Riches, jaillies de l'oreille et du cœur, les sept Etudes de l'opus 25 (n° 6 à 12) furent virtuoses au meilleur sens du terme, caractérisées individuellement loin de toute ambiance de compétition. Respirations, tempi musicaux, mouvements de tiroir et octaves ébouriffantes (la mineur), do mineur sans peur ni reproche, chevaleresque, porté toujours en avançant.
Aboutie, la Première Sonate de Brahms trahit le conquérant qui pense et construit. Allegro à pleines mains (vivant thème en accords, timbré, phrasé, jamais redit à l'identique), subtilité sans manières de l'Andante (lumineux effets du pp molto leggiero), tendresse du pont menant au Scherzo plein de feu, Finale enlevé à la hongroise, en tête brûlée, en force, au mépris de l'accroc. Architecture générale, lignes, sentiments : ce Brahms accuse son Schumann, avoue sa dette envers Schubert, Beethoven, peut-être Mendelssohn. Comme il est émouvant de voir la sûreté de l'instinct et des dons parvenir aux buts que l'introspection, la culture et l'analyse se proposent ! (8 juillet)
Festival Chopin à Paris 2017
english translation
Two young Polish pianists at the Bagatelle Orangery
In partnership with the Institute Frederic Chopin's Warsaw, Aleksandra and Kamil Swigut Pacholec were guests of the 34 th Chopin Festival in Paris, in the series "Concerts discovery."
… Superiorly gifted, Kamil Pacholec offers a very different image, stature and morphology oblige. The first prize of the 47 th Chopin National Competition Warsaw has flexible fingers, long and strong hands, strong arms barely possible impediment in their energy flow, a tendency to bulge the back so common at this age. But it is always a privilege and a joy to see a nature express itself so masterfully on the piano. Rich, sprung from the ear and heart, the seven studiesof opus 25 (n ° 6 to 12) were virtuoso in the best sense of the term, characterized individually far from any competitive atmosphere. Respirations, musical tempi, drawer movements and ruffling octaves (the minor), C minor without fear or reproach, chivalrous, always carried forward. Successful, the First Sonata of Brahms betrays the conqueror who thinks and builds. Allegro with all hands (living theme chords, stamped, phrasing, never repeated identically), subtlety without manners of the Andante (bright effects of the pp molto leggiero), tenderness of the bridge leading to the Scherzo full of fire, Finale removed in the Hungarian style, in the heat of the head, in force, in defiance of the hitch. General architecture, lines, feelings: this Brahms accuses his Schumann, admits his debt to Schubert, Beethoven, perhaps Mendelssohn. How moving it is to see the safety of instinct and gifts come to the goals that introspection, culture and analysis propose! ( July 8 )
Chopin Festival in Paris 2017
______________________________________________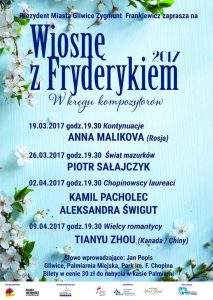 Event: Recital w Gliwickiej Palmiarni w ramach "Wiosny z Fryderykiem"      (6 Kwietnia 2017)
Review:   "Aleksandra Świgut i Kamil Pacholec w Gliwickiej Palmiarni"
Jan Popis – krytyk muzyczny (niezależny)
Trzeci wieczór w ramach tegorocznej WIOSNY Z FRYDERYKIEM wypełniły półrecitale najwyżej ocenionych uczestników 47 Ogólnopolskiego Konkursu Pianistycznego im. Fryderyka Chopina, który się odbył w grudniu 2016, tym razem w Katowicach. Wśród jego uczestników można zapewne upatrywać kandydatów do zbliżającego się Międzynarodowego Konkursu Chopinowskiego w Warszawie w 2020 roku. Jako że organizatorom Wiosny sprawa wspierania naszych młodych talentów mocno leży na sercu, nie kto inny jak Prezydent Gliwic przyznał tej dwójce nagrodę specjalną w formie, właśnie zaproszenia na te koncerty.
…
KAMIL PACHOLEC, tegoroczny maturzysta Szkoły Muzycznej II stopnia w Kielcach, od samego początku nauki gry na fortepianie, czyli od 10 lat pozostaje pod opieką Małgorzaty Kowalskiej. Na konkursie w Katowicach otrzymał najwyższą punktację, by w ten sposób wzbogacić swoje dotychczasowe osiągnięcia o kolejną pierwszą nagrodę. Na fortepianie gra z talentem, którego niezwykle istotną właściwością pozostaje naturalność. Dźwięk ma pełny i barwowo zróżnicowany. Potrafi rozwinąć formę narracyjną (Ballada g-moll). Etiudy wykonuje bez trudności (nr 7 – 11 z op. 25). Dużą, wirtuozowską radość sprawia mu (i również publiczności), granie takich utworów, jak XII Rapsodia węgierska Liszta. W tym roku ma podjąć studia na A.M. w Katowicach.
_______________________________________________________________________